Arsenal scourge Sane has Gunners in his sights again
The attacker is looking forward to getting a chance to play at Wembley while also hoping to continue his fine play against the Gunners 
Leroy Sane is aiming to continue his hot streak against Arsenal in Sunday's FA Cup semi-final as he plays at Wembley for the first time.
The Manchester City winger has scored in both Premier League games against Arsenal this season and heads into the semi-final in fine form.
Sane has recorded two goals in his last four games for City and the Germany international is excited to experience his Wembley debut.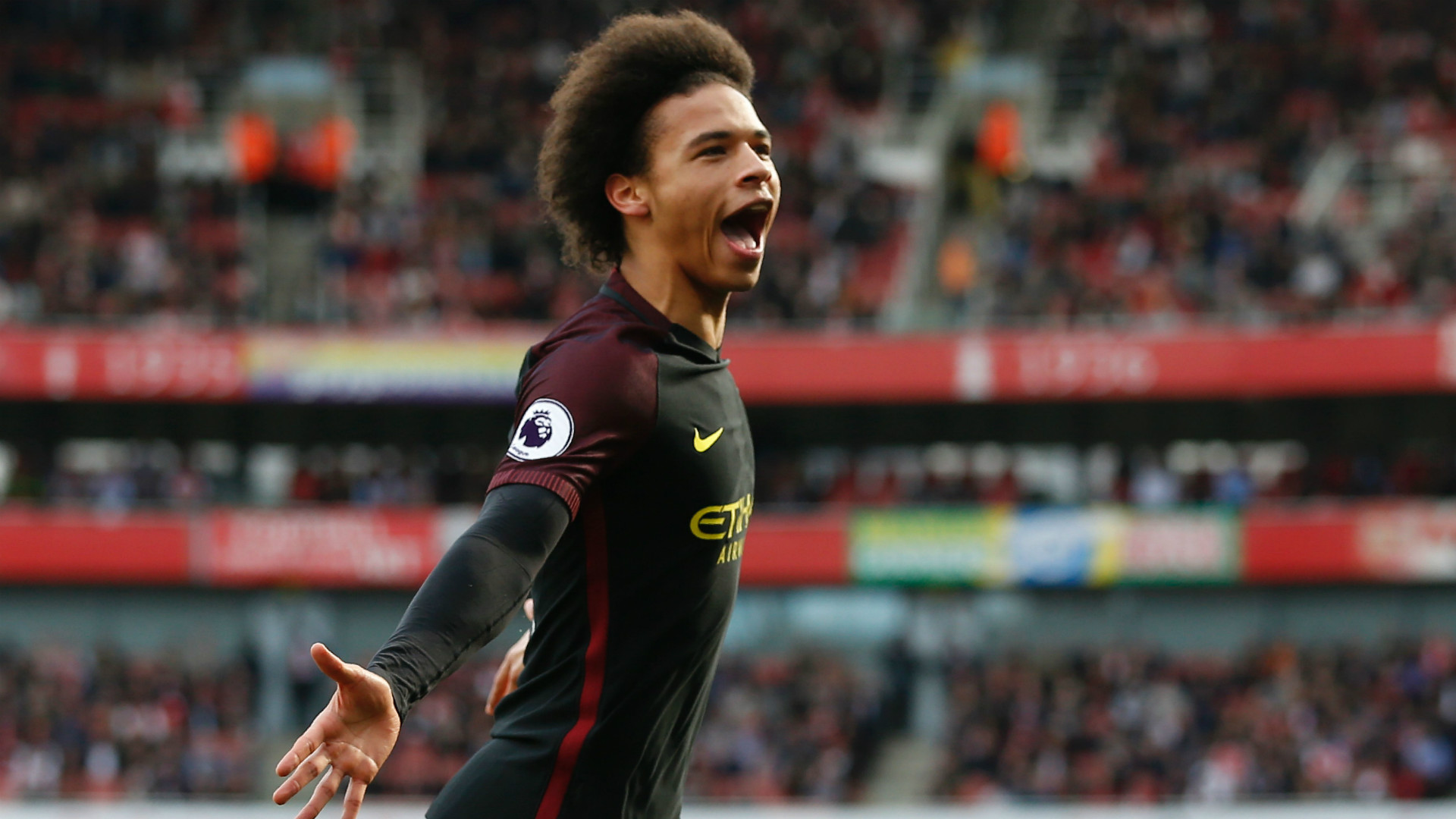 « Can I score again? I hope so, » Sane told the Manchester City website. « I've enjoyed my two games against Arsenal so far this season and I'm going to try to make it three goals in three games against them.
« I'm really looking forward to playing at Wembley. It's my first trip there and everyone has told me it's a nice stadium with a great atmosphere and we'll have more than 30,000 fans there making plenty of noise so I can't wait.
« I think the pitch will suit our style of play and I've heard it might be similar to West Ham's, but no matter where we are playing, we just want to go there and win this game because we want to reach the final and then win the competition. We are all motivated and ready. »
A strong first season in English football has earned Sane a PFA Young Player of the Year nomination, although the 21-year-old is not heavily fancied to win.
« I'm very proud to be nominated, but it's going to be a very tough award to win with players like Romelu Lukaku and Dele Alli also nominated, but it's nice to be in among such great company, » Sane added.
« As for my form and my season so far, I feel it is getting better. At the beginning things were a bit slow as I got used to the pace and I had to improve.
« But now, I'm really enjoying it, things are getting better and better and to be able to play with such great players who are now understanding how I play is a privilege, so things are going well.
« I just needed to settle in, find my feet and get used to the Premier League which is completely different from the Bundesliga. »
Source: www.goal.com
Premier League: Mu and Pogba return for a festival
For the last match of this Saturday in the Premier League, Manchester United hosted Newcastle at Old Trafford. Jose Mourinho's men squashed the Magpies (4-1) thanks to goals scored by Martial, Smalling, Pogba and Lukaku.
This Manchester United-Newcastle had a special flavor for the Mancunian fans. Indeed, this meeting marked the combined returns of Paul Pogba, Marcos Rojo and especially Zlatan Ibrahimovic. If the first city was started by José Mourinho, the Argentine international and the Swedish giant started the match on the bench. It was necessary to wait for the seventh minute to glimpse a Mancunian opportunity. Marcus Rashford quickly played a free-kick and threw Valencia right side whose center found Lukaku. The recovery of the Belgian striker went well above (7th). To everyone's surprise, the Magpies opened the scoring. On an excellent center Yedlin right side, Dwight Gayle crossed his shot and deceived De Gea (0-1, 14th). Galvanized by this opening of the score, the men of Rafael Benitez procured a new opportunity.
Murphy took advantage of Mancunian defensive mistakes to shoot a vicious shot that went right next (20th). Surprised by Newcastle's intentions tonight, José Mourinho's men were sorely lacking in inspiration. After purring for the first half hour, Manchester finally found the net. Paul Pogba had a right-side festival before centering for Martial's header, which deceived Elliot (1-1, 37). Invigorated by their equalizer, the Red Devils went on to attack the Newcastle goals. On a Young center, Romelu Lukaku was unable to win the ball (42nd). MU took the advantage just before the break on an excellent center Ashley Young victoriously headed by Chris Smalling (2-1, 45 + 2).
Lukaku finds his way back to the net
Back in the locker room, Manchester was again enterprising. Shifted to the right, Lukaku center for Anthony Martial in the area that was procrastinating at the time of chaining (49th). The Red Devils took off on an illuminated counterattack led by Mata who served Lukaku right side. The Belgian international center for the head of Rashford who put for Paul Pogba who pushed the leather at the bottom of the nets (3-1, 54th). The French international scored his third goal of the season in the Premier League.
Conquerors in the first act, the Magpies seemed to have surrendered now. It was necessary to wait until the 67th minute to see Murphy solicit De Gea by a well-rolled strike. Manchester sealed his success on a nice move between Mata and Lukaku. The Belgian striker alone at the penalty box shot close Elliot (4-1, 70th). The latter broke the Indian sign and scored his eighth goal of the season. For the last quarter of an hour, Mourinho gave his first minutes of the season to Zlatan Ibrahimovic who replaced Martial. Thanks to this success, MU regained his second place with 26 points.
Martial: « Mourinho is hard with me »
Author of a good start to the season as a replacement with Manchester United, Anthony Martial looks back on his relationship with José Mourinho.
It's much better for Anthony Martial. A one-year absence from the French team, the Manchester United striker found Didier Deschamps' starting lineup against Germany (2-2) on Tuesday and signed a superb assist on the opening of the score of Alexandre Lacazette. A return to the international scene that results from his start to the season with the Red Devils. Lining Marcus Rashford on the left wing, the 21-year-old has turned into a super sub, with 6 goals and as many assists on his meter.
« Toto » Martial especially took the fold of the discipline that José Mourinho imposed on him for a year and a half. « He's tough with all of us and he's tough with me, that's not the question, » said the native of Esssone on the Premier League channel. He recalls his long complicated relationship with the Portuguese coach: « At first we did not know each other very well, but things are better now. He knows my strengths and weaknesses and the result is that we learn to give the best every time.  »
I also know that he really loves me
If the former Monegasque, recruited for 50 million euros in 2015, manages to become a top player one day, he will probably thank the « Special One ». « I know it's for my benefit and I also know he really loves me, so there's no problem with this discipline », concludes Anthony Martial. Especially since the young striker now knows that the efficiency, which he knows to show today with his limited playing time, can allow him to be in the France group for the 2018 World Cup.
Chelsea without Michy, Musonda ni Moses but with David Luiz
Against WBA, Chelsea will not be able to play Michy Batshuayi, Moses or Musonda.
Batshuayi is injured. (Marc Atkins / OFFSIDE / PRESS SPO / PRESS SPORTS)
Traveling to West Bromwich Albion, Chelsea will have to do without Michy Batshuayi (ankle), Danny Drinkwater (calf), Charly Musonda (knee) and Victor Moses (ischios). On the other hand, David Luiz returned to the group after being sidelined by Antonio Conte.