Lewis Hamilton fastest in Brazilian Grand Prix practice
Mercedes driver Lewis Hamilton got his critical Brazilian Grand Prix weekend off to the ideal start with fastest time in first practice.
To take the title fight to the final race, Hamilton must stop team-mate Nico Rosberg winning the race on Sunday.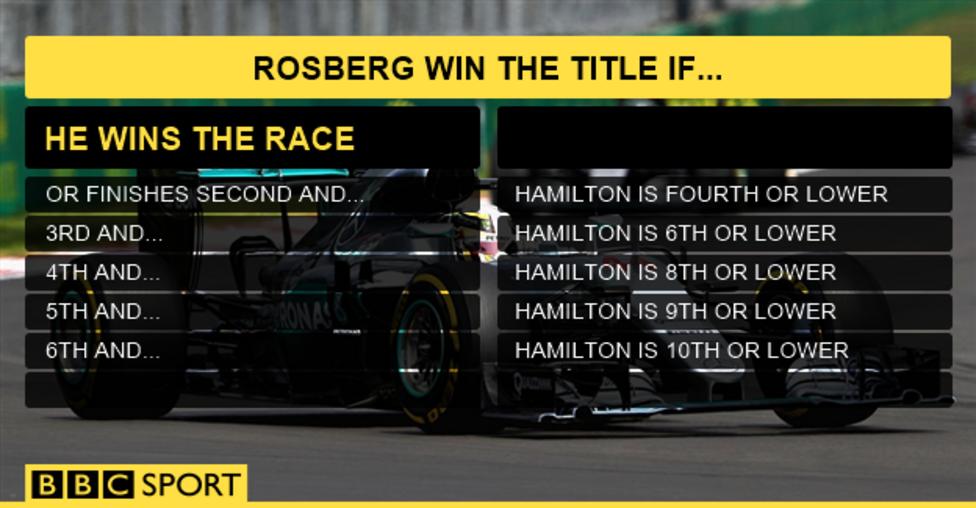 Hamilton was 0.230 seconds quicker than the German, who was only third, the two separated by Red Bull's Max Verstappen.
Hamilton was 0.096secs quicker than the Dutchman, whose team-mate Daniel Ricciardo was fourth fastest.
Hamilton was faster on both the medium tyres that the Mercedes drivers ran early in the session – by 0.05secs – and on the softs later on.
The session was held in hot and sunny conditions in Sao Paulo, but rain is expected later in the day and the weekend is forecasted to be cool and showery.
Wet conditions are likely to bring Red Bull into the mix for victory, which could play into Hamilton's hands.
McLaren driver Jenson Button, Hamilton's former team-mate, said: « If it's wet, it mixes things up. Lewis knows he's really good in the wet and can make a big points score. Nico knows there's a lot more to lose. I'm sure Nico wants it to be dry. But everyone watching wants it to be wet. »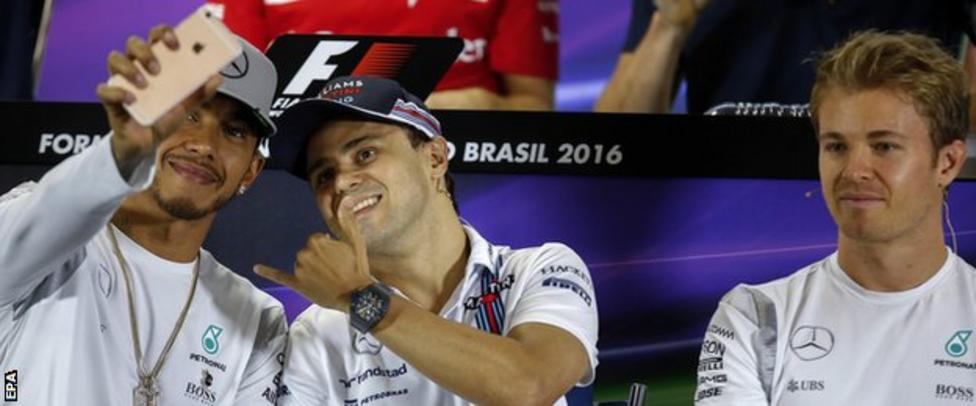 Rosberg has a 19-point advantage over Hamilton, who has won the last two races in the USA and Mexico.
A victory would extend Rosberg's advantage to at least 26 points, which means Hamilton could not overtake him in Abu Dhabi in two weeks' time.
Ricciardo said Mercedes were likely to finish one-two if the race is dry and if Rosberg is second behind Hamilton, then he would need only a third place in Abu Dhabi in two weeks' time to secure his first world title.
Rosberg says he is focusing only on trying to win in Brazil.
« It's awesome to be fighting for the world championship with two races to go and so, yeah, excited about the weekend, looking forward to it and of course going to try to go for the win, » he said.
Behind the Mercedes and Red Bulls, Williams driver Valtteri Bottas was fifth fastest, split from team-mate Felipe Massa – in his last Brazilian Grand Prix – by the Force Indias of Sergio Perez and Nico Hulkenberg.

Ferrari drivers Sebastian Vettel and Kimi Raikkonen were only ninth and 10th, Vettel 1.672secs behind Hamilton and 0.002secs quicker than the Finn, but did not run on the soft tyre.
Ferrari ran only the medium, which is in the region of 0.7secs slower than the soft tyre used by all ahead of them to set their best times.
Vettel had a spin late in the session at the fast downhill left-hander called Mergulho, the penultimate corner on the track.
Jenson Button, two races from the likely end of his F1 career, was 13th, one place and 0.044secs ahead of McLaren team-mate Fernando Alonso.
Jolyon Palmer, confirmed as staying at Renault next season, was 19th fastest, his team-mate Kevin Magnussen sitting out the session as Russian GP2 driver Sergey Sirotkin was given a chance, ending up slowest of all.
Brazilian Grand Prix Grand Prix first practice results
Brazilian Grand Prix coverage details
Source: www.bbc.com
Lewis Hamilton sets new Formula 1 record
The Mercedes driver has now more front row places than any other driver in Formula 1 history.
He eased to pole for Mercedes in Saturday's qualifying for the 2017 Formula 1 United States Grand Prix.
He was followed closely in second by Ferrari's Sebastian Vettel and his Mercedes team mate Valteri Bottas in third.
Lewis Hamilton as a result of this victory has overtaken the record set by Michael Schumacher as the all-time front row places in formula 1 history. He now has 117 poles in the competition's proud history.
He also holds the record for most pole positions (72).
Hamilton can wrap up the title on Sunday, he needs to win in Austin and closest rival Vettel finish sixth or lower.
Mercedes: 'Geen spanningen tussen Bottas en Hamilton'
Het team van Mercedes benadrukt dat er geen spanningen zijn tussen teamgenoten Valtteri Bottas en Lewis Hamilton. Beide coureurs zijn in gevecht met elkaar en Sebastian Vettel van Ferrari om het wereldkampioenschap. 
Van de felle rivaliteit van de laatste jaren tussen Lewis Hamilton en Nico Rosberg is dit seizoen (voorlopig) nog weinig van te merken. En zo blijft het ook, als het aan het team van Mercedes ligt. Adviseur Niki Lauda meent dat de onderlinge concurrentie niet tot het kookpunt komt.
"Ze zijn aardig tegen elkaar, want Bottas praat niet zo veel", meent Lauda. "De situatie is niet zo ernstig als vorig jaar. Lewis is een professional en Bottas ook, ik voorzie geen problemen. Ze respecteren elkaar en dat is het belangrijkst."
Mercedes-teambaas Toto Wolff verwacht wel een gevecht tussen zijn coureurs, maar voelt dat de situatie anders is dan voorheen. "Hun relatie is goed, Lewis was de eerste die Valtteri feliciteerde met zijn eerste overwinning. Dat toont aan hoeveel respect er tussen hen is", meent de Oostenrijker. "Maar het zijn wel concurrenten. Ze willen allebei winnen en voor het kampioenschap knokken, maar ik denk niet dat het hun relatie en de dynamiek van het team verstoort zoals vorig jaar."
Beide Mercedes-coureurs moeten Ferrari's Sebastian Vettel nog wel voor zich dulden in het kampioenschap. Hamilton (73 punten) heeft 13 punten minder dan de Duitser, Bottas staat derde met 63 punten uit vier races.
Source: www.formule1.nl
Russian GP: Mercedes will impose team orders for Hamilton and Bottas
Mercedes have changed their stance on team orders in response to the threat from Ferrari's Sebastian Vettel.
Mercedes non-executive chairman Niki Lauda told BBC Sport if one driver was holding the other up in a race, he had to let the quicker one past.
« It is logical: 'If I cannot go as quick as my team-mate I have to give him room to fight Vettel,' » Lauda said.
« The biggest problem for [Valtteri] Bottas and Lewis [Hamilton] is Vettel now. He is the one to beat. »
Lauda said this was a response to the change in Mercedes' situation compared to the last three years.
« In the past we had no team orders because we were dominating with both cars and there was no enemy, no-one could get in between, » Lauda said.
« This year, the first three races, is completely different.
« Ferrari is competitive. Vettel is right there, makes no mistakes and gives us a real interesting fight. So our new policy has to be that if one driver of ours cannot go quicker than the other one then he has to think as a team and use his problems not to block the other one. But it is not a team order. »
Hamilton is seven points behind Vettel in the championship after one win for the Englishman and two for the German so far this year. Bottas is 23 points behind Hamilton.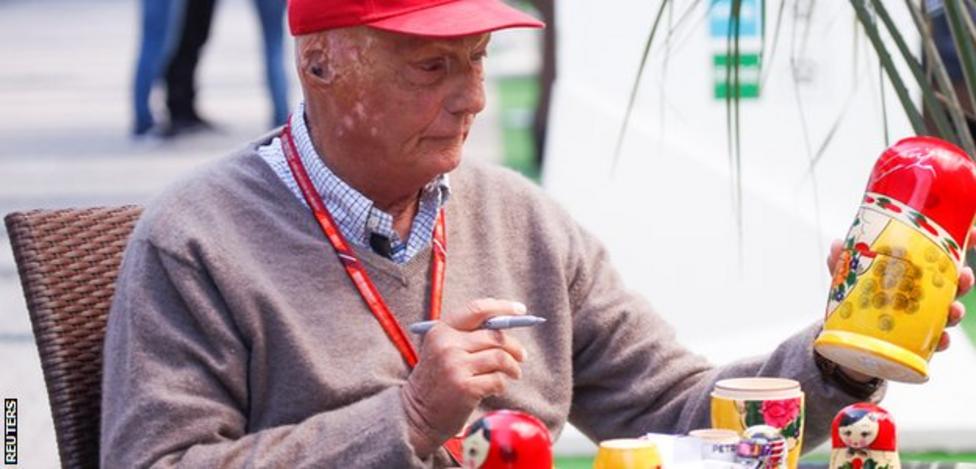 But Lauda added that the new policy would apply no matter which Mercedes driver was in front.
« So far Lewis was quicker, particularly in the last race, but these things can change, it works in both directions, we have to wait and see. »
Mercedes' new stance is a reflection of their actions in the Bahrain Grand Prixtwo weeks ago, when Hamilton's hopes of victory were hampered by being stuck behind Bottas while the Finn was struggling for pace.
This allowed Vettel to pull out a six-second lead after the first pit stops – exactly the margin the Ferrari driver eventually won by.
Team boss Toto Wolff said: « Team orders the word is pretty broad. We don't like team orders like 15 or 20 years ago, where you make one driver win for the benefit of the championship at an early stage.
« But if we have a difference in pace and we know the root cause we might interfere like we did last time. »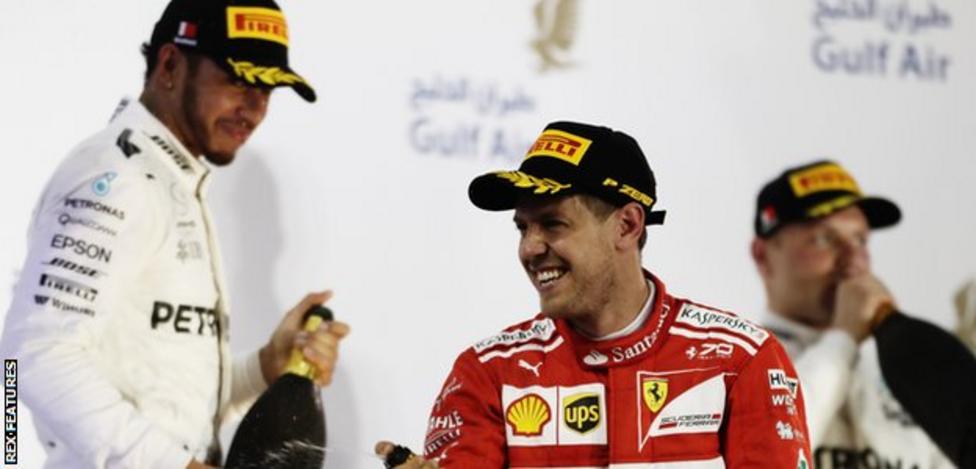 He added: « If you ask Ferrari, they wouldn't say they had a number one and number two driver and this is what I am saying as well. After the third race you can't have a number one and two. the dynamics worked the last three years, two drivers on a very high level pushing each other and this is what we are doing as well now. »
Referring to Bahrain, Wolff said: « Yes, in hindsight having seen how Valtteri's tyres were not in the right window, we could have maybe reacted two or three laps earlier but we are all world champions analysing the results afterwards.
« Yes, we could have been a bit quicker, but we will learn for the future.
« Nevertheless, it is a pretty tricky situation to ask a driver to let the other one overtake because he has an issue on the car. This does not feel right. »