Ronaldo and Benzema join Bale in missing Sporting clash
Los Blancos are already without Gareth Bale against Sporting Gijon and have decided to rest the entire BBC trio for the match 
Cristiano Ronaldo and Karim Benzema will join injured Gareth Bale on the sidelines when Real Madrid travel to play Sporting Gijon in LaLiga.
Bale is out with a calf problem and his fellow first-choice forwards will also not make the trip after being rested by head coach Zinedine Zidane.
The decision comes with Madrid facing crucial matches against Bayern Munich and Barcelona in the week following the Sporting clash.
Ronaldo earned his manager's praise Friday for hitting the century mark in goals scored in European competition, with Zinedine Zidane hailing his attacker's excellent form.
However, Ronaldo will have to wait to continue his fine form until the second leg against Bayern at the Bernabeu on Tuesday.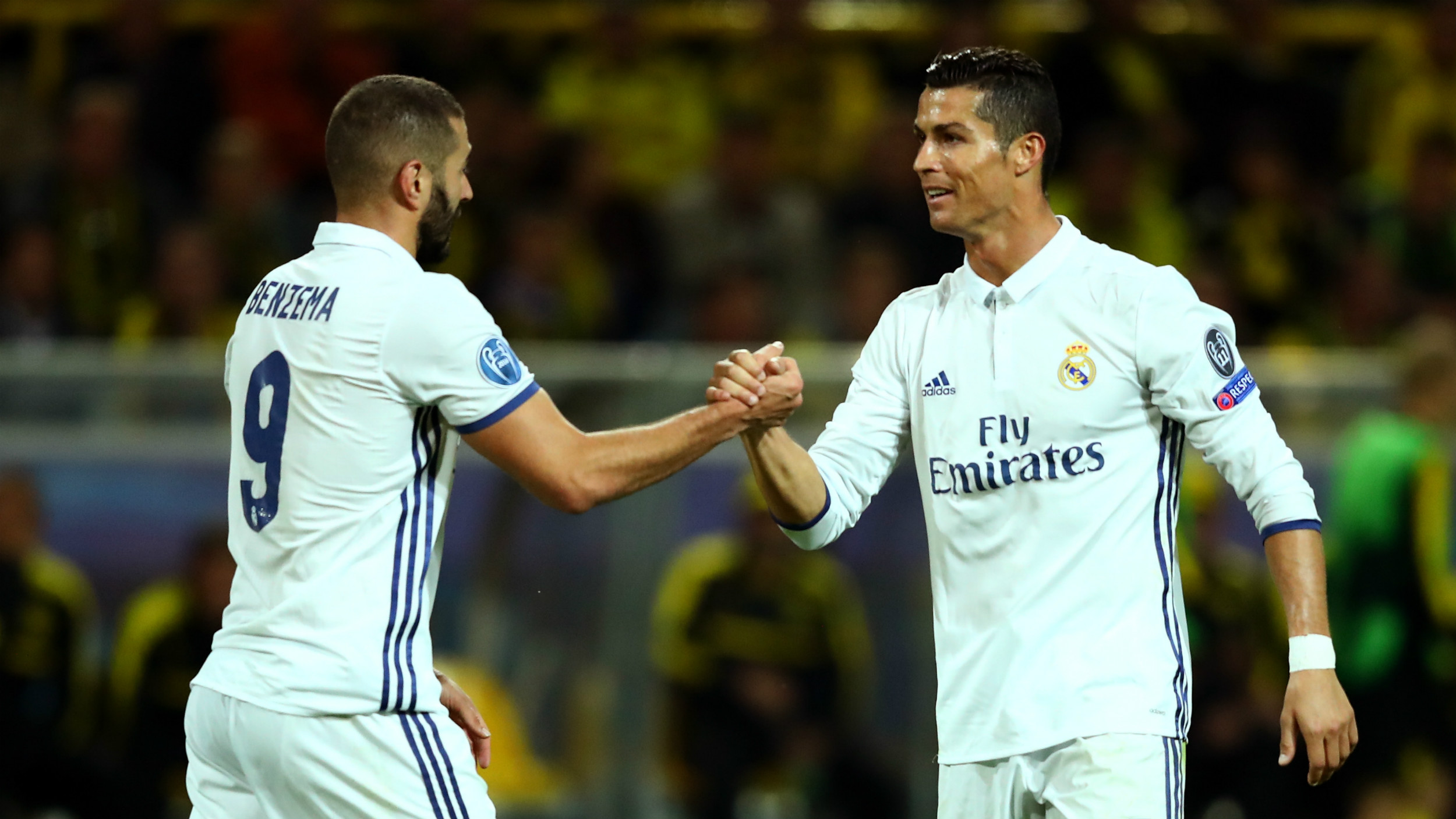 In addition to Ronaldo, Benzema and Bale, goalkeeper Keylor Navas has also been left out of Madrid's squad for the Sporting game while full-back Dani Carvajal was already ruled out with suspension,  and Raphael Varane and Pepe are out through injury.
Castilla player Alvaro Tejero has been called up to make up the numbers in Madrid's 18-man squad and Fabio Coentrao could make only his second league appearance of the season.
The possibility of the full-back making a rare outing was talked up by Zidane in his pre-match media conference earlier on Friday.
Madrid are three points clear of Barca at the top of the table with a game in hand. Luis Enrique's men are also in action on Saturday with a home match against Real Sociedad.
The two teams meet in El Clasico next Sunday after Madrid have hosted Bayern on Tuesday. Zidane's side hold a 2-1 lead in the Champions League quarter-final tie.
Real Madrid squad to play Sporting: Casilla, Yanez, Ramos, Nacho, Marcelo, Coentrao, Danilo, Tejero, Kroos, James, Casemiro, Kovacic, Modrid, Asensio, Isco, Vazquez, Mariano, Morata.
Source:  www.goal.com
Cristiano's wrath at the end of the Madrid derby
Cristiano Ronaldo can no longer restrain his anger at his bad performances and those of his team, and did not hide after the draw against Atlético Madrid.
'Deportes Cuatro', a Spanish sporting program, published some images on which Cristiano Ronaldo was annoyed with himself and his team after the derby.
« His mother p *** », the Portuguese striker looses, obviously frustrated by the draw but also by the fact that he still has not scored goals. The referee whistled the end of the match and Cristiano Ronaldo exulted.
Cristiano Ronaldo had only one real chance to score in the game, and that's a figure he's never really used to.
Real Madrid – Malaise: Marcelo's rant on the Ramos-Ronaldo controversy!
Asked about Cristiano Ronaldo's and Sergio Ramos' recent mic interjections on Saturday, Marcelo raised his voice in front of reporters, expressing his annoyance at the subject.
In the obligation to win in the derby after the victory of FC Barcelona on the lawn of Leganés, Real Madrid has failed to find the flaw in the defense of Atlético this Saturday, having to settle for a draw (0-0). A result that does not make the business of the White House, now relegated to 10 points of the Catalan leader. Visibly frustrated, Marcelo did not wish to dwell on the supposed tensions between Cristiano Ronaldo and Sergio Ramos after this meeting.
« I do not have to know what happened »
« You do not do anything but ask if Cristiano is sad and if there was something with Ramos. I do not have to know what happened, if they quarreled. I only want to play football, « he said in remarks reported by Ace. The two men will have had a difficult night anyway, with Ramos out of injury at halftime while Ronaldo chained a fourth. match without scoring in Liga.
The five games that have forever changed Kaká's career
An official end of career, Kaká wanted to remember the five games that he said changed his life.
According to the echoes of 'AS', Kaká began to realize what football was on June 30, 2002, during the World Cup final: « I did not hold against Germany , but I was proud to be part of this team in the final of a World Cup. I was very nervous, but when Ronaldo scored his goal I knew we were going to win. Five minutes from the final whistle I entered the field, without really getting heated, and I did not touch the ball, but it was one of the best moments of my career.
The second encounter that marked him was the 3-3 against Liverpool in the final of the Champions League in 2005. His club lost when he had three goals in advance, but Kaká was able to draw the positive side of defeat: « That day I realized that in football you can not consider a match as being won in advance. I still do not know how Liverpool could go up and tie in six minutes.
Kaká also mentioned his defeat with Brazil against France at the 2006 World Cup: « I learned a lot of defeats. This Brazilian team was incredible: Cafú, Lucio, Ronaldo, Roberto Carlos … but Zidane was the best that day and on a slip of the road we had to forget the title of world champion.
« Liverpool-Liverpool 2007 was also an incredible match. We arrived with so much motivation, so that the events of 2005 can not be repeated again, we then allowed ourselves no respite. we were winning 2-0 and Kuyt scored. But this time we did not lose. It was wonderful, the best year of my career, « said Kaká.
Finally, the Brazilian recalled the final of the 2007 World Club against Boca: « Although it seems easy, a final of World Club is always complicated. I played it with a shirt that said 'I belong to Jesus' and it went around the world. We celebrated the victory like kids and I was named Player of the Match.