TEAM NEWS: No Milner, but Coutinho, Mane and Firmino all return for Liverpool
Jurgen Klopp has named his strongest available side for the late kick-off against Crystal Palace
James Milner has been ruled out of Liverpool's matchday squad against Crystal Palace due to illness, with Alberto Moreno filling in for him at Selhurst Park.
How Firmino blew Benteke out the water
The England international is the only absentee from Jurgen Klopp's preferred XI, who all return to the starting line-up after the manager made 11 changes for Tuesday's EFL Cup victory over Tottenham.
Milner missed full training on Thursday, doing individual work instead. He attempted to join the squad in Friday's session but it was evident that he was still unwell and it was decided not to risk him.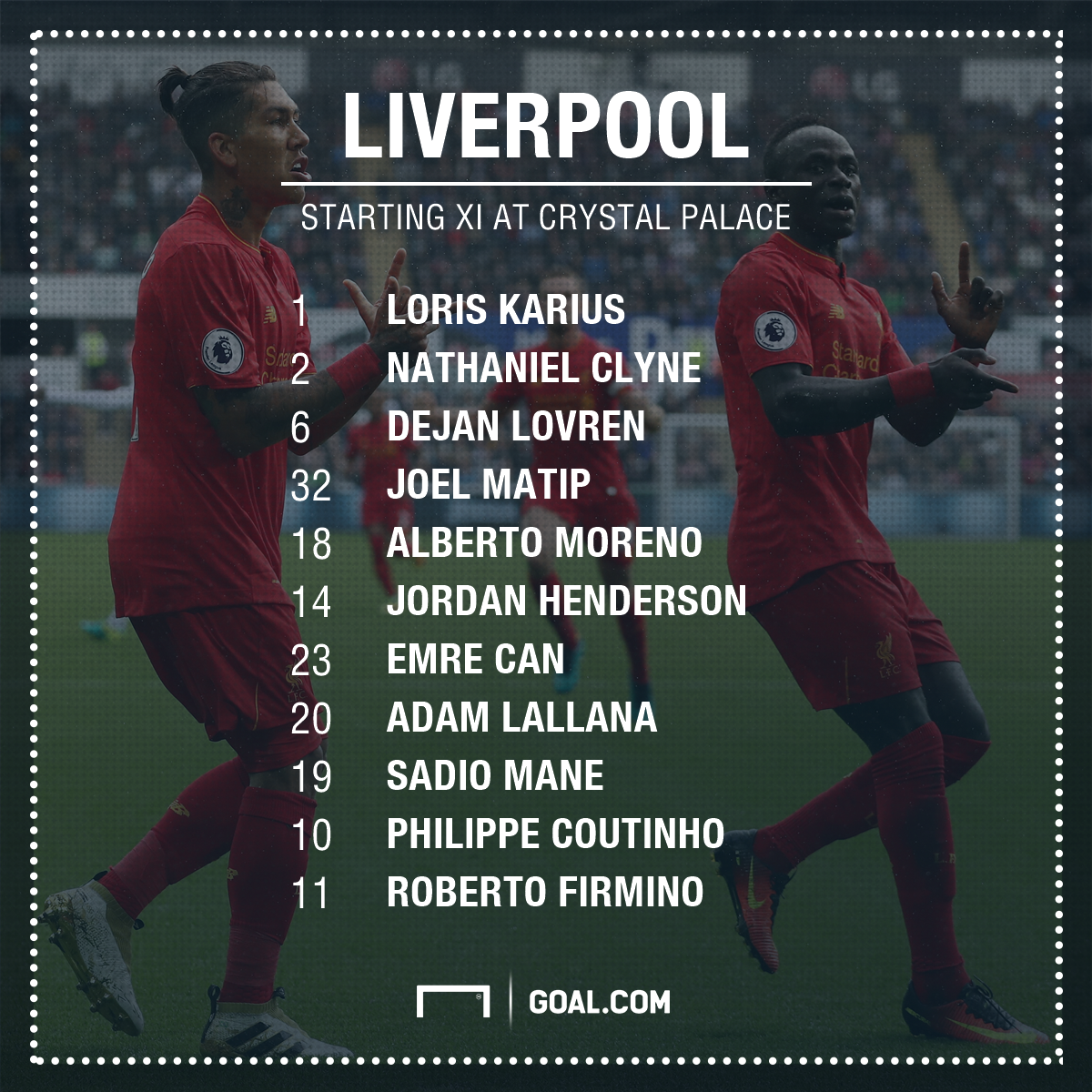 Meanwhile, Daniel Sturridge, scorer of both Liverpool goals in the 2-1 win over Mauricio Pochettino's men, is back on the bench with Roberto Firmino leading the line.
Emre Can keeps his place in midfield as Georginio Wijnaldum is held in reserve.
Sadio Mane, who has scored thrice in his last five games against Palace, will want to continue his fine record against them on Saturday.
Liverpool starting XI: Karius, Clyne, Lovren, Matip, Moreno, Henderson, Can, Lallana, Mane, Coutinho, Firmino Subs: Mignolet, Klavan, Randall, Lucas, Wijnaldum, Sturridge, Origi.
Source: www.goal.com
Jordan Ayew tops English Premier League sprint chart after 16 matches
Ghana forward Jordan Ayew has been rated as the player with most sprints in the English Premier League after 16 round of games.
The Swansea City attacker has always been faced with criticisms for his lack of work ethos when playing for the Ghana's senior national team.
But the former Olympique Marseille man appears to have had the best statistics in arguably the world's best championship in terms of a player that has made the most sprints in the league after 16 matches
The 25-year-old heads the list of the 10 players ahead of speedsters including Hector Bellerin of Arsenal, Delle Alli of Tottenham and Richarlison of Watford.
According to the Express.co.uk, with their high intensity and counter-attacking football, Manchester City have wracked up the most sprints so far this season with a whopping 6198.
However, relegation-threatened West Ham have managed a measly 4942.
Surprisingly, Manchester United only have the 15th highest amount of sprints with 5210.
Even though Manchester City have wracked up the most sprints as a team, no individual star of Pep Guardiola's side makes the top 10.
So which Premier League ace has sprinted the most times?
1. Jordan Ayew (Swansea) – 796 sprints
2. Delle Alli (Tottenham) – 742 sprints
3. Jay Rodriguez (Burnley) – 715 sprints
4. Hector Bellerin (Arsenal)- 695 sprints
5. Tom Cleverley (Watford) – 695 sprints
6. Tom Ince (Huddersfield) – 683 sprints
7. Abdoulaye Doucore (Watford) – 682 sprints
8. Richarlison (Watford) – 677 sprints
9. Erik Pieters (Stoke) – 669 sprints
10. Pascal Gross (Brighton) – 662 sprints
Pots announced for Final Draw
With Peru completing the line-up of 32 teams for the 2018 FIFA World Cup Russia™, we now know the seeding pots for the Final Draw on 1 December.
It was confirmed in September, by the Organising Committee for FIFA Competitions, that all teams will be allocated to (eight-team) pots 1 to 4 based on sporting principles. The October 2017 edition of the FIFA/Coca-Cola World Ranking will be used to allocate all qualified teams to the four pots according to their ranking in descending order, after hosts Russia who take the top seeding spot.
With those factors in mind, here are the final pots for the Final Draw:
POT 1 Russia, Germany, Brazil, Portugal, Argentina, Belgium, Poland, France
POT 2 Spain, Peru, Switzerland, England, Colombia, Mexico, Uruguay, Croatia
POT 3 Denmark, Iceland, Costa Rica, Sweden, Tunisia, Egypt, Senegal, Iran
POT 4 Serbia, Nigeria, Australia, Japan, Morocco, Panama, Korea Republic, Saudi Arabia
It is worth remembering that the principle of drawing the teams into the groups will remain unchanged. This means that no teams from the same confederation, with the exception of UEFA, which could have up to two teams in the same group, will be drawn into the same group.
The Final Draw will take place on Friday 1 December at Moscow's State Kremlin Palace.
fifa.com
« We do not want him at Real Madrid anymore »
Real Madrid are in a bad situation in the league, the club of Casa Blanca is currently third in Liga behind Valencia and Barça, the Catalans have taken a big lead, and this could definitely make them lose the championship in the winter. And a Madrid club player is highlighted in these poor results.
101 million euros for his transfer, 23 injuries since, 73 matches missed or 55% of the matches of his team. Statistics that would drive any coach and / or leaders crazy. You have it ?
These are the figures of Gareth Bale since his arrival at Real Madrid in the summer of 2013 from Tottenham. Whoever has played only nine games in the year 2017/2018 seems to have seriously undermined the patience of its leaders. Just back from a calf injury, he was summoned by the Welsh side to face France in a friendly last Friday, but made the choice to stay in Madrid to prepare for the derby against Atletico Madrid. But, the blow, the Welsh injured during training last Thursday and will be absent about a month.
What continue to fuel the rumors of transfers but especially what cause irritation of the board leader. The latter, tired of not being able to align their triplet « BBC », have made a decision that should be irrevocable, according to the Madrid newspaper AS: It must leave this summer. And the Spanish media also explains that the president of the Madrilenian club, Florentino Perez, added:
« We do not want him at Real Madrid anymore »
Yet strongly criticized last season, Bale had managed to avoid a departure last summer, claiming to want to win at Real Madrid. This year, his start to the season does not plead in his favor and he seems to have exhausted all his jokers in the Spanish capital. The departure of the Welsh international therefore seems to have been recorded.
The rumor of a return to the Premier League, Manchester United in particular, has been reactivated but the number of contenders could quickly evolve in view of the quality of the player. Be careful though, the Welsh is signed until 2022, and Florentino Perez is determined not to sell his player.
Unless a return to its best level, it is difficult to see how the Welsh international could reverse the situation. Zinedine Zidane even found his replacement for 100 million euros.