What's wrong with Thomas Muller? The Bayern star has lost his Midas touch
The World Cup winner has struggled horribly for goals this season, with doubts raised over whether he has a future in Bavaria under Carlo Ancelotti
 Come the end of this season, Bayern Munich will be in need of a fresh start. That will remain true even if they were to win the treble.
Five of their key players are aged 30 or over – including chief attacking threat Arjen Robben and captain Philipp Lahm – and there is a sense of things going stale, particularly after last week's Champions League quarter-final first-leg loss to Real Madrid.
Former Blancos boss Carlo Ancelotti was supposed to give Bayern a fresh start and a fresh perspective following the intense three years the squad experienced under Pep Guardiola. However, the Italian's renowned man-management skills – which have previously pleased characters as diverse as Zlatan Ibrahimovic and Cristiano Ronaldo – have not been enough to invigorate the Bavarians this season so far.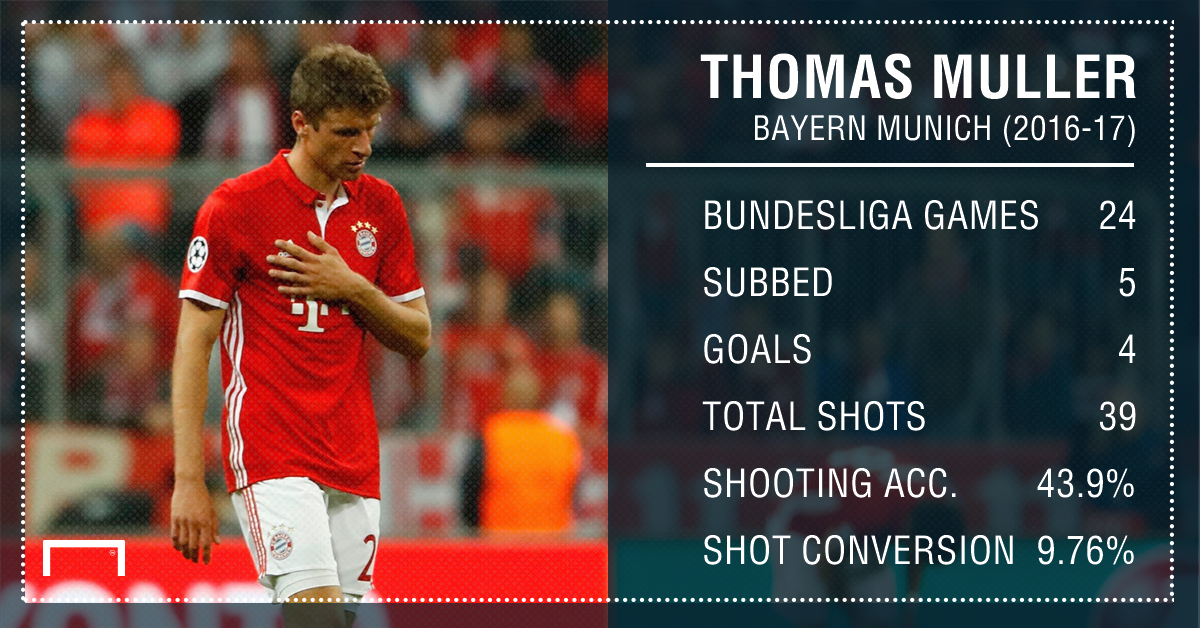 True, they are 10 points clear in the Bundesliga but it is telling that their closest challengers are newly-promoted RB Leipzig and there is no denying that the champions have not cut the same relentlessly dominant figure of seasons gone by. It is natural that such a successful team might experience a drop in intensity – even psychologically – and a wholesale shake-up might be required to make Bayern hungry again.
The struggle to adapt from Guardiola's plans to Ancelotti's has been no more apparent than in Thomas Muller. Bayern chief executive Karl-Heinz Rummenigge revealed earlier this season that Manchester United made a world-record bid of €100 million for Muller during the summer of 2015.
The ex-Germany international warned that the Bundesliga could be "emptied out" by English cash and the club stood resistant to the bid. The truth of the matter is that Muller looks a long way from a €100m player right now.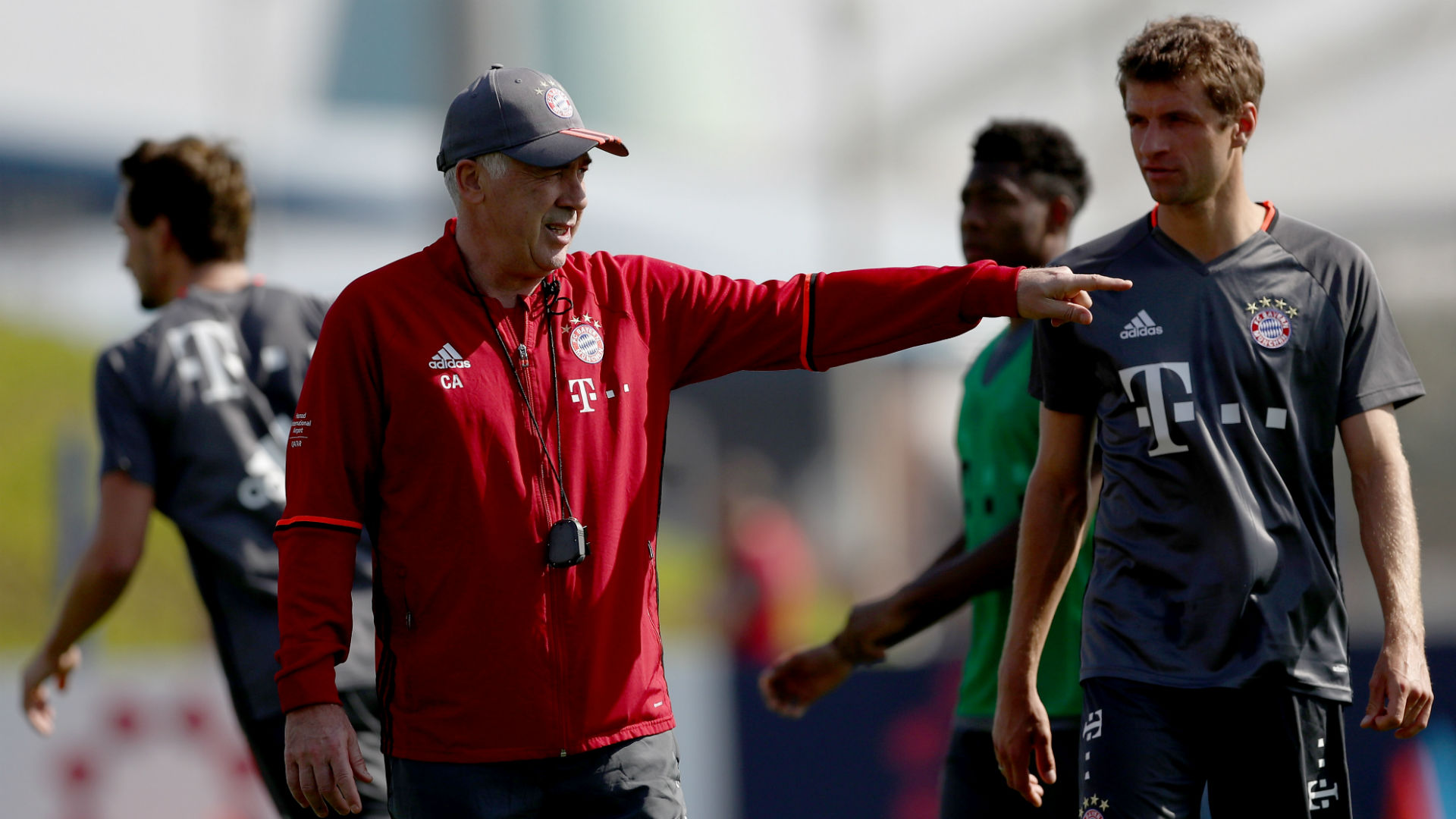 He may have had the odd conflict here and there with Guardiola – over tactics and his role in the team – but there can be no dispute that the Catalan got more out of Muller than Ancelotti is currently extracting.
At times this season, Muller has appeared out of sorts and unsure of his role in the team. A lot of that has to do with Ancelotti's failure to impose any sort of collective identity on this team. Bayern are reliant on moments of magic – from a Robben or a Robert Lewandowski – to get themselves ahead or out of trouble.
Whatever you thought about Guardiola's Bayern – boring or not – it was clear that in place was a clear, coherent structure. They dominated games as a team; not only through the strength of their individual talent. Here, Muller was key.
He admitted in February that when Bayern aren't playing well, he can't play well. He needs a well-drilled, efficient team around him in order to bring out his best. That is not to excuse his own poor play.
There has been an improvement of late in the Bundesliga, with three goals and seven assists in his last seven outings, but Muller continues to struggle against quality opposition.
Indeed, he offered next-to-nothing in last week's 2-1 loss at home to Real, failing to muster one shot on target during a game in which he was entrusted with the responsibility of leading the Bayern attack in the absence of the injured Lewandowski.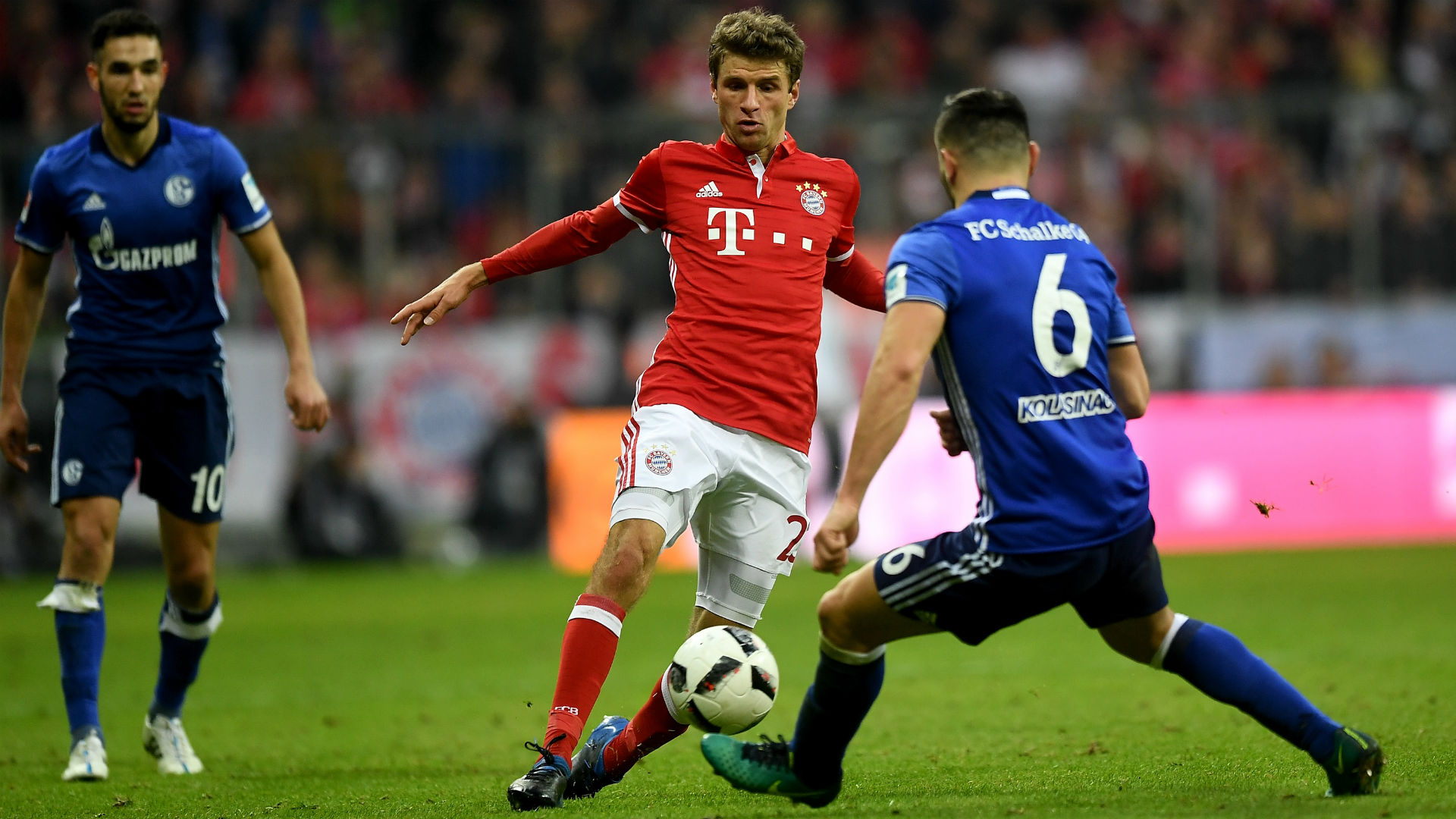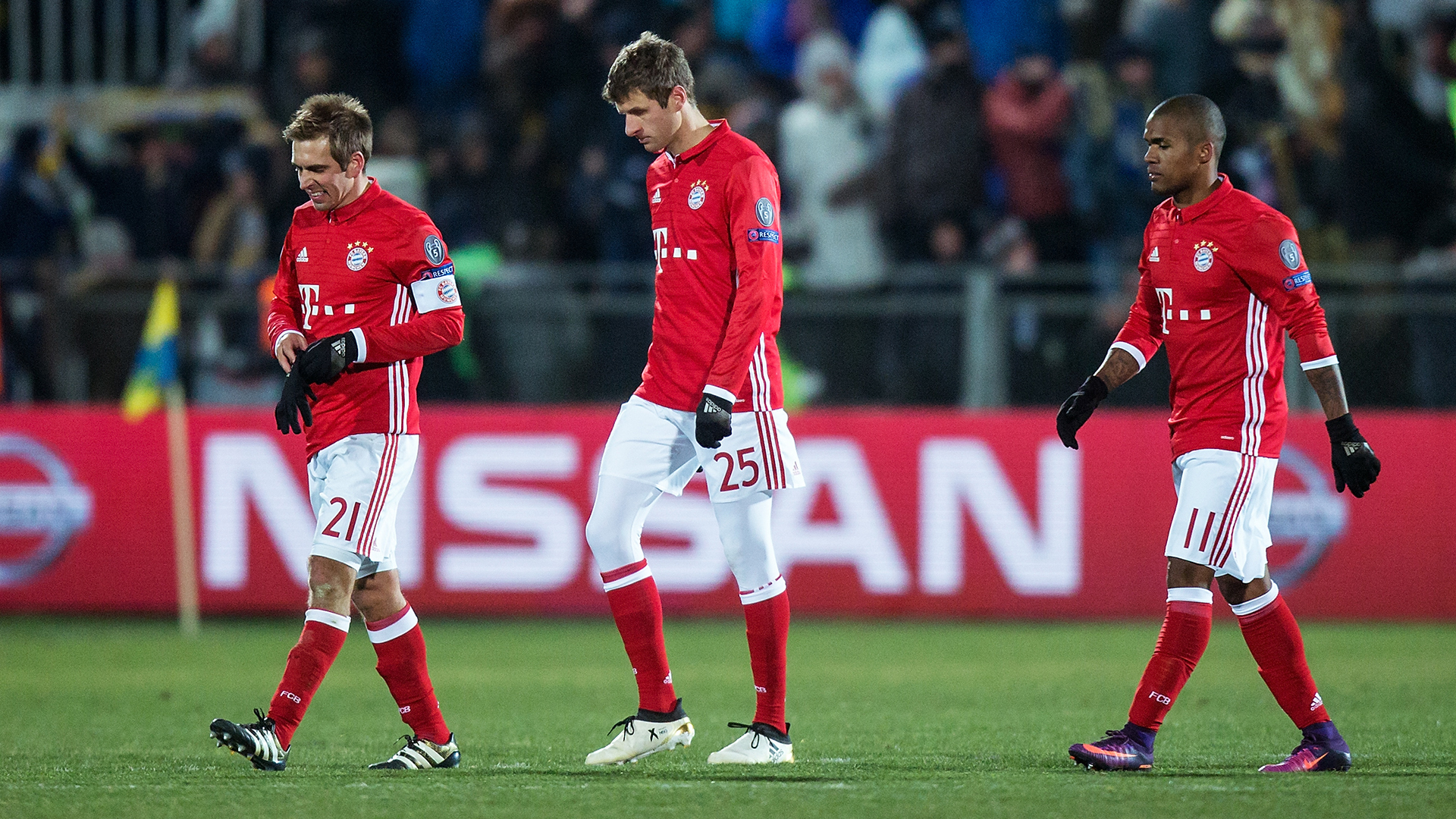 But Muller has not performed at the levels expected of him since last spring. Missing the key penalty against Atletico Madrid in the Champions League semi-final was a crucial moment for the 27-year-old and for Bayern as a whole. He carried that poor form into the European Championship – where he didn't score and became the first German since Uli Stielike at the 1982 World Cup to miss a penalty in an international shoot-out.
To date, he's only scored four Bundesliga goals in 23 outings and his shot conversion rate is a shocking 9.76 per cent (Lewandowski's is 28.26%). He was 999 minutes without a league goal before netting against Wolfsburg in December.
Despite his travails, there is no suggestion that Muller is unhappy in Munich nor is he thought to be seeking a fresh challenge at this stage. Ancelotti might not be pleased with the forward's output either, but he remains happy with his input. He regards Muller as a team player above all and when Bayern click he should come good.
We have been saying that all season long, however, and maybe this is one of those campaigns Bayern have to struggle through – whether they win or lose. The time for renewal will come in summer and there probably will not be any €100m bids from the Premier League for Muller.
Whatever happens, a fully functioning Muller is crucial to a fully functioning Bayern, and this term under Ancelotti is proving the opposite to be true too.
Source:  www.goal.com
Hugo Broos threatens to quit as Cameroon coach
<!–
Hugo Broos threatens to quit as Cameroon coach
–>

Cameroon coach Hugo Broos has revealed that the Federation of Cameroonian Football has not offered him a new contract as he signals his intention to quit.
The Belgian manager says he will vacate his coaching position in February when he meets the FECAFOOT hierarchy.
Media reports in Europe reveal that Broos has threatened to quit and will not accept the new 18-month contract offered to him through a verbal agreement in May.
KAIZER CHIEFS COACH RUES RED CARD IN TKO DEFEAT
Broos says he has been asking for the new document to sign officially, but the normalisation committee has never answered him.
"Since May nobody has ever came to my home nor summoned me to Younde to propose me sign a new contract. I have several times asked where the file is but no one answers me," he said to Juene Afrique.
"If nothing moves, I will officially announce my departure. I cannot give you the date of my resignation but it will come very soon. I am a professional and I want to find out first where I am going first.
"I cannot afford to wait until the new president is elected. Imagine that once in office he says: We don't want to work with Hugo Broos anymore. Do you understand why I am bitter?."
Meanwhile, the African Cup of Nations winning coach is reportedly owed four months salary by the government, but he says it is not the reason he is planning to resign.
Source: www.africanfootball.com
Germany Star To Replace Yaya At City?
It seems Pep Guardiola wants to replace Yaya Toure with a Germany star who is also being chased by the likes of FC Barcelona, Bayern Munich and Liverpool.
Read: 'Yaya Should Leave Pep's City'
The Spaniard is keen on improving his in-form squad, which is yet to lose a game this season. City have begun the Premier League season on fire, winning 11 of their first 12 games so far. As a consequence, they have opened up an eight-point gap on second-placed Manchester United.
However, one star who has not featured much in Guardiola's plans so far is Toure, and the Ivorian is rumoured to be leaving the club in January. The City boss is reportedly targeting Leon Goretzka, whose contract with Schalke expires at the end of the season, as his replacement.
The Sunday Mirror reported that Guardiola could try to lure Goretzka to the Etihad in January for a cut-price fee in order to beat competition from FC Barcelona, Bayern Munich and Liverpool, among others.
Schalke could be open to cashing in on the 22-year-old, who starred for Germany during the 2017 FIFA Confederations Cup, instead of losing him for free at the end of the campaign.
Goretzka plays in a similar role to Toure and would not be cup-tied in European competitions in the second half of the season because Schalke did not qualify for the UEFA Europa League or Champions League this campaign.
Read: 10 Stars Barca Could Target In January
The midfielder would become the third Germany star in Guardiola's squad, joining Ilkay Gundogan and Leroy Sane.
Do you think Goretzka would be a good replacement for Toure? Have your say in the comments section below.
<a href="https://iono.fm/p/298" _cke_saved_href="https://iono.fm/p/298">Content hosted by iono.fm</a>
Source: www.soccerladuma.co.za
Oumar Niasse: Everton striker banned for two games for diving
Everton striker Oumar Niasse has been banned for two matches after being found guilty of diving.
The Senegal forward is the first Premier League player to be punished under the new Football Association laws, which were introduced in May.
Niasse won a controversial penalty, under pressure from Scott Dann, during Saturday's 2-2 draw at Crystal Palace.
The 27-year-old will miss Everton's game at Southampton on Sunday and at home to West Ham on 29 November.
Niasse denied he had « committed an act of simulation » that led to the penalty being awarded in the fifth minute of the game.
Leighton Baines converted from the spot, and Niasse later scored his side's second equaliser at Selhurst Park.
The FA's Independent Regulatory Commission, which includes former players, found the striker guilty of the charge when they met on Wednesday.
Incidents which suggest a match official has been deceived by an act of simulation are referred to a panel consisting of one ex-match official, one ex-manager and one ex-player.
They review video footage independent to each other and the FA only issues a charge if the panel are in unanimous in agreeing there was simulation.
Carlisle forward Shaun Miller was the first to be banned, when he was suspended for two games in October.
Bristol City defender Bailey Wright was suspended for two games earlier this month, while Manchester City forward Bernardo Silva and Watford's Richarlison have both avoided charges this season.
Source: www.bbc.com/sport